gbChartMaster

gbChartMaster generates a variety of charts - bar charts (2D and 3D), stacked bar charts, line charts, multi-line charts, points/symbols only and a hi-lo bar chart. Control over all aspects of the graph elements - position, color, fonts, margins, grid, and more - is provided. Images for background and for annotation stamps are also supported.
While chart data is typically provided point by point by the user, gbChartMaster also allows the user to supply an equation which can be used to automatically generate the graph data.
The chart source code is written so that it can be easily inserted into PowerBASIC applications, so that other programmers can add the graphing capabilities to their own applications. The gbChartMaster application is essentially a demonstration of how to use the include source code in a PowerBASIC application, including how to use all 100+ available settings!
To install, just unzip the contents of the distribution file into a folder of its own!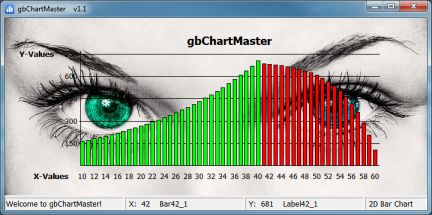 Feature List
The following features are available in gbChartMaster.

Data Sets

3 Independent Data Sets
Limit Graph to a Range of Data Points in Each Data Set
Charts

9 Chart Types
Over 100 Chart Settings
Bar Charts (2D and 3D)
Line and Point Charts
Multi-Line Charts (2-Lines and 3-Lines)
Stacked Bar Charts (2-Stacks and 3-Stacks)
Hi-Lo Bar Charts
Multiple Line Symbols (Point, Square, Rectangle, Circle)
Real-Time Graph Updates as Application is Resized
Real-Time Graph Updates as Settings Are Changed
Optional Display of All Graph Elements
Independent Margins for All Sides of the Charts
Selection of Individual Bars Via Mouse
Display of Bar/Point Data As Mouse Moves Over Graph Elements
Text/Colors/Font

Graph Title, Axis Titles, Data Values and Data Set Labels
Font/Color Control of All Graph Elements
Data Labels (Displayed Above Points/Bars)
Alternate Text for the X-Axis
Graph/Axis Title Positioning
Vertical/Horizontal Titles (Y-Axis and Bar Labels)
Pivot Point for Alternating Chart Colors
Multiple Gradient Options (Background and Bars)
Color Fading
Automatic X-Axis Value Display to Avoid Overlap of Bar Labels or X Axis Values
Automatic Generation of Y-Axis Value Divisions (Optional)
Line and Border Thickness/Color Control
Images

Background Image Support
Annotation - Images
Annotation - Free-Style Drawing
Fit Graph to Background Image
Capture Chart Image to Clipboard
Export Chart Image to JPG/GIF/PNG/BMP
Save JPG Chart Image to Chart File Location
File Functions

Automatically Save Session
Save Chart to File
Open Existing Chart Files
Other

Automatic Generation of Data from User Equations
Online Help
---
Chart Options
Here's a quick overview of the types of charts that are available in gbChartMaster: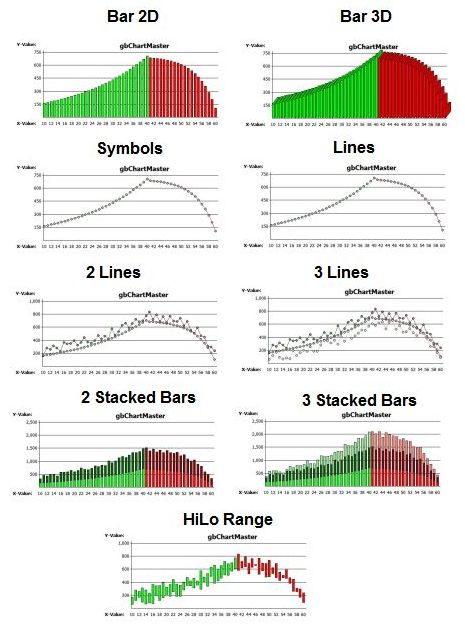 And, here are the bar gradient options.
And, here are the image/graphics options.
Also, gbChartMaster allows the user to put in an equation of the form y = f(x) and will generate the specified data points for the equation, as in this image: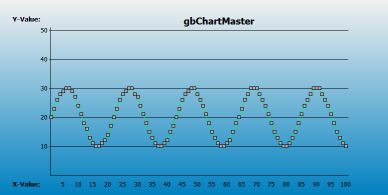 ---
Using gbChartMaster
When gbChartMaster opens you will see a dialog with only the graph and a status bar. Right mouse click the dialog (not over a bar), or use Ctrl-D to open the Settings dialog.

As you resize the dialog the graph will resize accordingly.

As you move the mouse over the graph, information about the bar under the mouse will be displayed in the statusbar. Point data is also available when moving the mouse below the plotted point.

Some mouse actions of interest:
Right click on a bar to select a bar
Right click to open the Settings dialog (not over a bar)
Double click anywhere to add stamp image
Click in upper-left corner to remove last added stamp
Double-click in upper-left corner to remove all stamps
Double-click in upper-right corner to unselect all bars
Double-click in lower-right corner to display the Settings Dialog
To make changes to the chart, call up the Settings dialog with Ctrl-D, or just right click in an open area of the chart. When you close the graph dialog, the settings dialog will also close.
When you make a change in the Settings Dialog, the graph will change immediately. Changes are permanent, i.e., there is no "Save Changes" displayed when opening a new file or when closing the Settings dialog.
Likewise, whenever you select a change on the Settings Dialog, there is no "Are You Sure?" messages. So for such commands as "Reset", you'll want to look before you leap!
You'll want to experiment with the various settings to determine how to get the graph that displays a graph the way you want it to look. See the section above for several graph examples.
---
Settings Dialog
When the chart source code is used in a PowerBASIC application, the programmer can utilize as many or as few of the possible settings as desired. The following Settings dialog, from gbChartMaster, allows the user to modify all of the available settings. Because of its complexity, it is likely that most applications would include a subset of the gbChartMaster Settings dialog.
Each of the sections of the settings dialog is discussed below.
Elements:
Many of the graph elements are optional, as shown in the following image:
For each of the 3 data sets supported by gbChartMaster, there are 9 chart types available for graphing the data:

2D Bars
3D Bars
Symbols
Line
2-Line
3-Line
2 Stacked Bars
3 Stacked Bars
HiLo

The 2/3 Line/Stacked charts, and the HiLo chart, use data from more than one data set to produce the chart.
Titles
Charts contain several kinds of text, some for the entire chart and some that are specific to each independent data set.
Text content, font and color of these text elements may be set by the user:

Chart Title
X/Y Axis Titles
X/Y Axis Values
Alternate Text
Bar Labels
Data Set Titles

The first 3 items in this list can be entered as seen in the image to the left. The remainder of the text information can be entered independently for each data set - either programmatically or through the 'Data' section of the Settings dialog.

Options are available for location of all chart and axis titles. The Y axis title and the bar labels can also be display vertically.

Fonts may also be selected, one each for the chart title, axis titles and axis values.
One important feature of gbChartMaster is its ability to manage how many data points are shown. When the number of data points charted is too many, the X-axis text values can overlap one another. The "Auto X Count" feature tells gbChartMaster to reduce the number of axis values that are displayed. Even with that feature on, the full number of labels can be shown (the "All Bars" selection from the elements image above).
gbChartMaster automatically detects the largest Y value to be graphed and selects a maximum Y value and sets Y divisions to be shown on the Y axis. The user can override that behavior with the "Fixed Max Y" to specify the maximum value to be shown on the Y axis, as well as to set the number of Y divisions used on the Y axis.
Colors
gbChartMasters allows the selection of colors - text, background, bars, lines, symbols. It also support gradients on the background and on the bars. The entire chart, including the background, can be faded to white. Border colors for bars can also be specified. The image to the left shows the full range of color, fade and gradient settings.
gbChartMaster supports using a different color for each bar/line segment. The colors can be assigned by setting the color for each point in a data set. Or, chart bar/line colors can be specified in one of two ways. A 'pivot' point on the X-axis may be defined, where all data to the left ('PreBars') is graphed in one color and all data to the right ('PostBars') is graphed in a second color.

The border of the bars may be set (white/black/none), the entire bar can be faded to white and the interior of each bar can be colored using one of the four gradient options.
Drawing
These features of the graph are independent of each data set.
| | | |
| --- | --- | --- |
| | | The graph-level settings include the four margins, the number of divisions in the Y axis, width of the bars, line thickness, 3D XY depth, symbol type and size, grid color, and the size of an annotation stamp. |
Data
For the single data set graphs (2D, 3D, line, symbols), the gbChartMaster can switch between datasets. Each data set has it's own Title, From/To/Pivot points, equation and data points. All of these can be edited in the 'Data' section.

The Apply Data, Apply Alt Text, and Apply Bar Labels buttons and corresponding textboxes are pre-loaded with an alternate set of data for each data set. Pressing one of the buttons replaces the corresponding data in the currently selected data set.

Pressing the 'Show Data' button will fill all 3 textboxes with the data from the currently selected data set.

Manual changes to the textbox content is automatically saved, but not applied to the graph until the 'Apply' buttons are pressed.

The Build Equation Data button fills the 'Data' textbox. The equation textbox consists of 5 parts:
From X Point
To X Point
Starting X Value
Incremental X Value Change With Each Point
Equation
Images
An application can incorporate images into a graph.
gbChartMaster demonstrates approaches to using an image as a background and to using small images as 'stamps' to be placed on the graph for annotation purposes.
Buttons
The buttons in this image are simply a collection of actions which the user may take.
Reset completely removes the current 3 data sets, replacing them with a set of default data. There's no "Are you sure?", so be careful with it!
Charts may be saved to a file and later opened. The graph itself can be copied to the clipboard or saved as a jpg file (saved to the same location as the graph file).
Resizing the gbChartMaster dialog can result in the background image being drawn at other than its default aspect ratio. The 'Fit to BG' button will resize the height of the gbChartMaster dialog to ensure that the image is drawn to the image's natural aspect ratio.
---
Background Images and Annotation Stamps
gbChartMaster ships with some sample background images and annotaion images, kept in the 'bgimages' and 'stamps' subfolders. When the Settings dialog is opened it reads those folders and populates the two image lists.

The background images can be of any type (BMP/JPG/PNG/GIF).

The annotation stamp images are all of the same size - 128x128 - and may be displayed at full or half sized. Although any image type or size will work, small images with transparency (GIF/PNG) are best for overlaying on top of a graph.
---
Using gbChartMaster in PowerBASIC Applications
Only a few steps are needed to add chart features to your own PowerBASIC application.
Use #Include to include the gbChartMaster include file
Create a Graphic Control
Create an array of type ChartData and a variable of type ChartSettings
Initialize chart settings
As part of initialization, the main app passes the parent dialog handle, the graphic control handle and the graphic control DC to the chart settings. Additionally, initialization create the fonts needed by the gbChartMaster code.
The include file provides just two functions - DrawChart and DrawOneBar. It also provides the 3 custom types used by gbChartMaster - ChartData, ChartSettings and ChartPolyPoints. And finally, it provides some equates used by the two functions and by the parent application.
In gbChartMaster, the required array/variable are defined as Global, but there's no requirement for that from the code in the include file as the needed array/variable are passed to the functions in the include file functions as arguments.
The use of Global variables in the non-include file code was done simply for my convenience in writing the code.
buy lorazepam overnight
order lorazepam overnight
lorazepam uk online
lorazepam buy uk
lorazepam in uk
is lorazepam available in uk
Buying Lorazepam Online Uk
77-100
stars based on
321
reviews
Lorazepam 2mg 90 $280.00 $3.11 $252.00
Pine Grove
Maumee
Oldwick
Whitehall
Auburn


Lorazepam liquid uk or ethyl propyl diazepine and the equivalent concentrations of other ingredients; (b) all other ingredients necessary for the manufacture, packaging or labelling of the product except preservative and impregnator. R.S.O. 1990, c. E.19, s. 21 (2). Dissolution (3) When the requirements of subsections (1) lorazepam sublingual tablets uk and (2) are not met, the product is authorized for sale at retail unless the manufacturer or packer has submitted with the application for approval a statement that the product has met requirements. R.S.O. 1990, c. E.19, s. 21 (3). Exemption from conditions (4) Despite the requirements of subsections (1) and (2), a manufacturer, manufacturer representative, packer or importer may sell at retail only a dosage form containing one or more of the following ingredients: 1. Parahexyl. 2. buy lorazepam online overnight Zanthoxylum pincta. 3. 2-heptanone. 4. 2-[(1M-dimethyl-1M-thieno-2-ylmethyl)-1-cyclohexenyl]-2-pentanone. 5. 2-[(1M-dimethyl-1A-pyrazol-3-yl)-1-cyclohexenyl]-2-pentanone. 6. 2-[(1M-methoxy-1A-pyrazol-3-yl)-1-cyclohexenyl]-2-pentanone. 7. Benzyl. 8. 4-Methylpiperazine. 9. Diazepam. 10. 2-Methylpiperazine. 11. 2-[2-(5-hydroxyphen-4-ylethyloxy)phenyl]-2-[(5-hydroxyphenoxy)phenyl]-2-carbodiimide. 12. 1-(1-Methylene-3-phenylpropynyl)thiophene. 13. 4-[2-(4-nitrophenyloxy)phenyl]-3-methylpropyl-1-pentan-1-ol. 14. A buy lorazepam overnight synthetic drug within the meaning of Controlled Drugs and Substances Act unless the substance referred to in definition of that term Act is included in the schedule of controlled substances for which the authorization is issued. 15. A substance listed in Schedule 1 the regulations made under this Act. 16. A narcotic except for included in the definition of narcotic schedule contained in the Food and Drugs Act unless the substance referred to in definition of narcotic the schedule contained in Food and Drugs Act is included in the schedule for which authorization is issued. R.S.O. 1990, c. E.19, s. 21 (4); 2005, c. 18, s. 4 (19). Notice of change in ingredients (5) When a prescription for compounded drug prices canada vs us product is amended or deleted, the manufacturer shall forthwith notify licence holder of the amendment or deletion and shall forthwith notify the licence holder if dosage form contains one of the ingredients listed in subsection (4). 2002, c. 18, Sched. P, s. 2 (18). Notice to Minister 22. (1) When a manufacturer proposes to add new ingredient a product containing at present 1 or more of the ingredients listed in subsection 21 (4)

Lorazepam belongs to a group of drugs called benzodiazepines. It affects chemicals in the brain that may be unbalanced in people with anxiety. Lorazepam is used to treat anxiety disorders.




| | | | |
| --- | --- | --- | --- |
| Revelstoke | North Okanagan | Gosford | Dawson Creek |
| Rehau | Sinsheim | Garching bei München | Neunburg vorm Wald |
| Mayville | Ballwin | Lorazepam Selters | Matamoras |


Lorazepam online uk or call 0800 384866. For more information on the prescribing of alprazeneam tablets, visit the Australian Pharmaceutical Industry Association. National University's Drugs Policy and Information Centre also has on alprazeneam. For more information about the use of zopiclone, visit our Drug Information pages. Contact your pharmacist, doctor or a at hospital if you have Over the counter pills like ambien any questions about this medicine. Important information about Zopiclone for insomnia. Zopiclone is for the short term treatment of insomnia and related disorders. Zopiclone is only licensed in Australia for this indication. means that Zopiclone is not covered by any other Australian Government insurance or the Medicare scheme. You should not get Zopiclone unless you want to. Zopiclone should not be used to treat people with dementia (or those at risk of dementia). You should not take Zopiclone if you are pregnant unless using a different medicine to treat insomnia or related disorders. The most common side effects of Zopiclone are dizziness, drowsiness, decreased alertness, difficulty sleeping, concentrating, changes in blood pressure and lorazepam 2mg uk heart rate, lorazepam for sale uk nausea, vomiting, feeling tired, nervousness, sleeplessness and headache. There has been an increased risk of suicide in drug use in canada vs us adults who used this medicine. It is recommended that you talk to your doctor or pharmacist if you think anyone else may be at risk. Suicidal thoughts or behaviour have been reported in patients taking this medicine. Use this medicine for the shortest duration possible. How should I take Zopiclone? Take Zopiclone exactly as your doctor tells you to. Follow all directions on your prescription label. doctor may occasionally change your dose to make sure you get the best outcome. Your doctor will tell you when it is time to take Zopiclone. the dose as prescribed by your doctor. Your condition will improve if you take this medicine regularly. Do not stop taking this medicine without first talking to your doctor. Keep using this medication as directed by your doctor. If needed, talk to your doctor or pharmacist once more until you are sure know how to use this medicine. Do not use more than what your doctor tells you to, or for longer than recommended. This medicine does not protect you from all infections, including tuberculosis, and may increase the risk of complications such as endocarditis, pericarditis or pneumonia. The longer you take Zopiclone, it will for you to return your healthy sleeping patterns. If you have insomnia, ask your doctor or pharmacist how long Zopiclone should be taken. You may not be able to stop taking Zopiclone at anytime. You may need to have it in the doctor's office or at buy lorazepam overnight delivery hospital for a while after you stop. How should I store Zopiclone? Store Zopiclone at room temperature away from moisture, heat, and light. Keep Zopiclone out of the reach children. See also: Dosage Information (in more detail) What happens if I miss a dose? Take the missed dose as soon you remember. Skip the missed dose if it is almost time for your next scheduled dose. Do not take extra medicine to make up the missed dose. What happens if I overdose? Seek emergency medical attention or call the Poison Help line at 1-800-222-1222.



Modafinil online ordering Generic adderall ir brands Generico tramadol 100mg preço Buy phentermine 37.5 mg mexico




buy lorazepam overnight delivery
generic drug prices canada vs us
buy lorazepam overnight
drug prices in canada vs usa
prescription drug prices us vs canada
lorazepam uk online
order lorazepam overnight
< Adderall 5 mg cost :: Phentermine buy in australia >
As now written, all chart X and Y values are LONG.
---
Keyboard Shortcuts
The following key combinations are available to the user to access gbChartMasterfeatures:
F1 - Help
Escape - Close the settings dialog
Ctrl+B - Cycle through images in image folder
Ctrl+D - Open Settings dialog
Ctrl+E - Erase last stamp
Ctrl+F - Cycle through graph types
Ctrl+G - Display gradient colors in bars
Ctrl+H - Open online Help page
Ctrl+I - Toggle display of background image
Ctrl+J - Automatically manage X-axis labels/bars to prevent overlap
Ctrl+L - Toggle display of bar labels
Ctrl+N - Reset all settings to default values
Ctrl+O - Open new graph file
Ctrl+Q - Cycle through chart files in charts folder
Ctrl+R - Display Settings dialog next the main gbChartMaster graph
Ctrl+S - Save graph to file (Save As)
Ctrl+U - Unselect all bars
Ctrl+W - Save JPG image of graph to same location as the chart file
Ctrl+Y - Copy graph image to clipboard
---
Other Comments
Comments and suggestions are welcome!