Beginning
Overview
IDE
Projects
Forms
Controls
Intrinsic Ctrls
ActiveX Ctrls
Source Code
Commands
Cmd Reference
File Handling
Printing
Distribution

Intermediate
Menus
Dialogs
Mouse
Drag and Drop
Graphics
Error Handling
Database Overview
Database Controls
SQL

Advanced
API
Objects
Internet File Transfers
UNIX/CGI/Perl
Perl Commands
JavaScript
Web Page Forms

GBIC &gt&gt VB &gt&gt Books &gt&gt Books Database

Books Database
In the spirit of sharing I'm making available my entire VB Books database, including the VB6 program (and source code) I use to manage the database!. Once you have the list of books that match your search criteria, double-click on the book title to see the full content of the database for that title. With it, you can review the list of books offline. HELP for the application is given below on this page.
Book Librarian Main Windows
The program does not automatically size to accomodate the resolution of the host machine, so you must have your screen set at least to 800x600 or else you will not be able to see all of the application.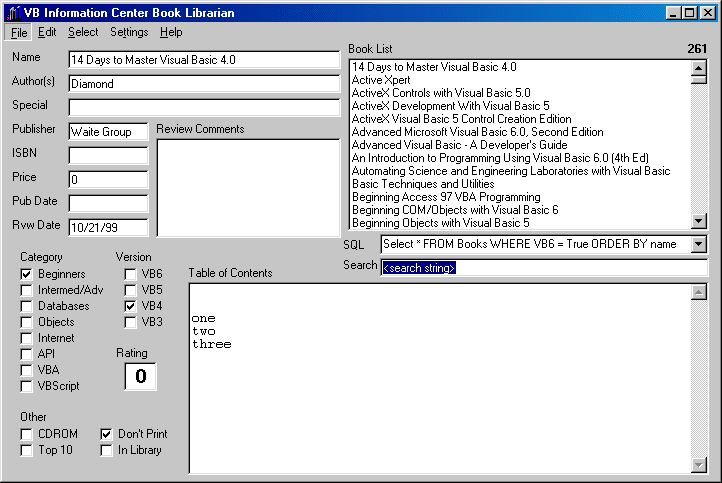 Books Librarian HELP
In case you're interested in seeing how the code works, I've also included Splash and About screens in BookLib.