gbSearch
gbSearch is a freeware utility for finding files which meet user-specified criteria. It provides over 125 different settings or actions which a user may employ to tailor a search, review the search results, and act on the matching files.
Searches may specify wild card file name patterns and may be constrained to one or more specified file extensions. Searches can also be constrained to return only files which contain specified search terms, or which meet specified date/size criteria.
A search may be limited to a single folder or may include subfolders.
While searches can find any type of file, special support is provided for text files, including an integrated text file viewer. Within the viewer, search terms can be highlighted. Or, the display can be limited to only lines which contain the search terms.
A significant feature of gbSearch is the ability to create a merge file - a text file containing the content of all files meeting the specified criteria. Merge files offer several unique advantages which make reviewing search results especially easy.
To install, simply unzip the installation file (gbsearch.zip) in a folder of your choice. In addition to the EXE, the installation includes gbSearch source code, the resource file, and image files.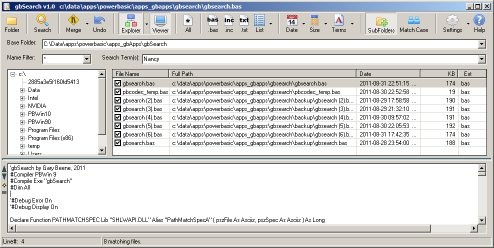 Key Features
gbSearch provides a wide range of features, all focused on making it easier to find and manipulate information in text files.
Search subfolders
Find files matching specified dates/file sizes
Find files containing search terms
Integrated file Viewer/Editor
Highlight matching terms
Special support for text files
Merge located files
Duplicate file finder
Side-by-side file comparison
Create gbSnippets library from *.bas source files
---
Using gbSearch
Using gbSearch couldn't be simpler. From the toolbar, select the optional search criteria by pressing the appropriate toolbar buttons:
file extensions to include in the search
files within a date range
files within a size range
files containing search terms
Then just press the search button on the toolbar to see a list of files which match the criteria. Click on a file in the results list to view it in the integrated text file viewer, or double click on a file to open it with the local default client for that file type.
That's it!
---
User Interface
gbSearch allows the toolbar to be modified to reflect one of two search modes - restricted and unrestricted. In restricted mode, the toolbar provides several buttons which allows the user to easily constrain searches to a specified list of file extensions. The convenience comes at the cost of a wider toolbar.

In unrestricted mode, the user can still apply a similar constraint, but must do so by typing in the extension information to the file name filter. In unrestricted mode, the toolbar is somewhat narrower, which is preferred by some users.

UnRestricted Mode
While gbSearch features emphasize text files, searches can be made on any file type. In the "unrestricted" search mode, the gbSearch interface is simplified to this:
In unrestricted mode, the user can search for any file extension by entering the extension type in the Name Filter. This is discussed in more detail further down this page.
Restricted Mode
Whereas in "restricted" mode, gbSearch additionally displays the toolbar buttons which allow the user to specify text file extensions to include in the search. In this mode, only files which have the selected extensions will be returned from a search.
Optional GUI Elements
Regardless of whether the extension-specific toolbar buttons are displayed, the gbSearch interface may include two optional elements - a folder browser (left side) and a text file viewer (along the bottom). Both are shown in this image: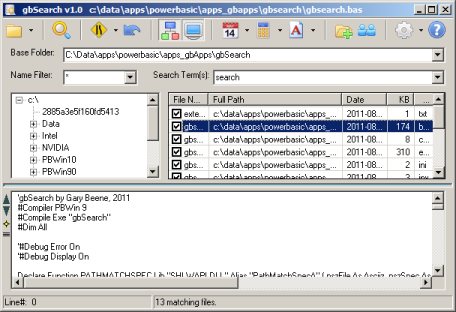 ---
Toolbar
gbSearch's search commands are found in its toolbar (no menu is used). So going through it first will cover the main features of gbSearch.

Unrestricted Mode
In unrestricted search mode, the toolbar looks like this. It does not have the extension-specific buttons. Click the image to see a full-size version.

Restricted mode
Then, in restricted search mode (constrained to specified extension list), it looks like this. It includes the extension-specific buttons. Click the image to see a full-size version.

Extension-Specific Toolbar Buttons
Here's an image of the extension-specific buttons. An explanation of each is provided in the discussion below.