Freeware
Freeware
My Freeware

Shareware
Shareware
My Shareware
PCMag Utilities

Special Sections
Combined List
Reviews
Developer Tools

Resources
Web Sites
Newsletters
Newsgroups
Organizations
SIA Awards

Quick Links
gbAnimator
gbCase
gbCodeLib
gbSnippets
gbGallery
gbNavigate
gbOfficeTimer
gbPlot
gbRegistry
gbReplace
gbSIRTS
gbSnippets
gbStreet
gbText
gbVRML
gbWebCam
gbXML

GBIC &gt&gt Software &gt&gt gbFlyZapper

gbFlyZapper

gbFlyZapper is a simple animation of a fly, whose path may eventually intersect with an electronic zapper!
The application uses a special algorithm (courtesy of Mark Hunter!) to simulate the movement of a fly - providing a smooth path but with significant, random changes in direction. The fly body is always rotated to face the direction of flight. The flight path for a short distance in front of the fly may be displayed, or the total path history may be viewed.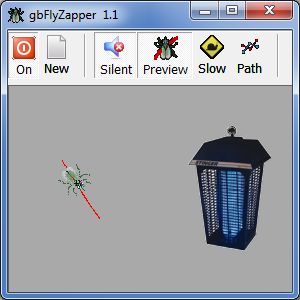 Feature List
Animated fly sprite
Smoothed flight path
Background buzzing sound
Fly zapper
Collision detection (fly and zapper)
Dead fly image
Option to view fly path history
Fly body rotates to face the direction of travel
Size/Position maintained between sessions
Toolbar added to access the new options
Stop -starts/pauses the action
New - restarts the path
Silence - mutes the buzzing noise
Preview - displays the path immediately before and after the fly
Slow - drop the speed way low to allow inspection of the results
Path - display only the path
Online Help
---
Toolbar
All gbFlyZapper features and settings are accessed through the toolbar buttons.
On - Uses to Pause or Continue the game
New - Restarts the game (erases all paths)
Silent - Mutes the fly buzzing noise
Preview - Displays the path immediately behind and in front of the fly
Slow - Slows down the speed of the fly
Path - Hides all images and displays only the path (including history)
---
Comments
Application settings are kept in an INI file, located in the folder where gbFlyZapper is installed.

Comments and suggestions are welcome!